Bottom Bouncing Rigs
Everyone knows that trout do most of their feeding beneath the surface, and any guide can tell you that nymph fishing is the best way to catch fish. In our area, nymphing means bouncing the bottom. However, this technique comes with a price. Losing precious flies. It just so happens that where trout live, and feed is a maze of fly catching sticks, and split shot trapping rocks. These nymphing set ups should help both alleviate the risk of snagging woody debris, and help with the issue of the split shot playing hide and seek between the rocks. Please note that these set ups are for those who fish with strike indicators, and that Euro Nymphing/Tight Line anglers may not find them effective. These rigs also use a tippet ring as a central point. Blood knots could also be used with an almost similar level of effectiveness. (images are for visualization only, line lengths, diameters, and tippet ring size are not accurately represented)
No Shot Jig Rig
This verison of our bottom bouncer uses a jig style nymph for the weight. Since the hook point rides up, there should be less contact with woody debris on the bottom. In the photos a fairly ornate fly is used. Using a more expendable version like a Jig Squirmy, or a Jig Leech, may be beneficial to those who don't want to sacrifice time at the vice for an offering to the river gods. The distance from the tippet ring to the jig fly should be between six to eight inches. This should be enough for the fly to fish effectively without too many tangles. Size of fly should be based on weight required to reach the bottom, and the tippet size should be light enough that the fly breaks free and leaves everything else intact if snagged. The second fly in this rig should be unweighted. Whether this is a worm, soft hackle, micro Zonker, or unweighted nymph, the lack of weight will keep it more out of danger. Tie this fly on with one size heavier tippet than the jig fly is attached with.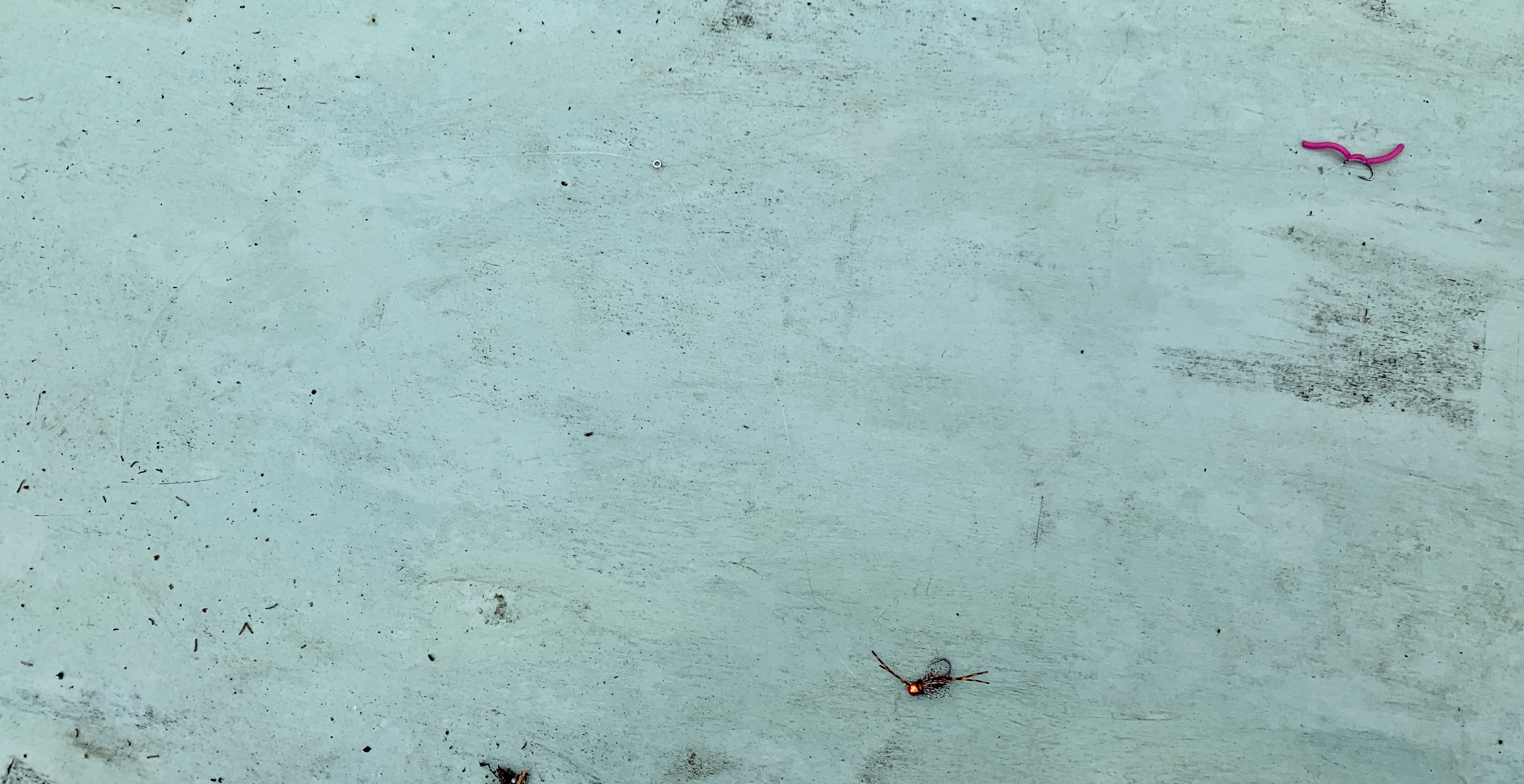 Split Shot Slinky Rig
This rig comes from the world of Steelhead, and Alaskan trout fishing. Instead of using a weighted fly dropped off the tippet ring, this rig uses light tippet with an overhand knot at the end to be used as a stopper. The split shot is pinched onto this line, and when/if it becomes snagged it either slips off the stopper knot, or the light tippet simply breaks, leaving the flies attached to the ring. The flies themselves should be unweighted and can be any combination of small streamers, soft hackles, nymphs, or worms. The lead fly should be larger with a smaller dropper in tow. Tippet size for the split shot dropper should be 6x-7x to ensure that the flies won't also be lost if snagged. The length can be somewhere between two inches to six inches. The tippet from the tippet ring to the lead fly should be at least one size larger than the split shot tippet, and be a minimum of 10 inches from the ring. The dropper fly can be attached with an equal diameter tippet as the split shot, or one size lighter. This length can be between 10 inches and 24 inches depending on the situation.